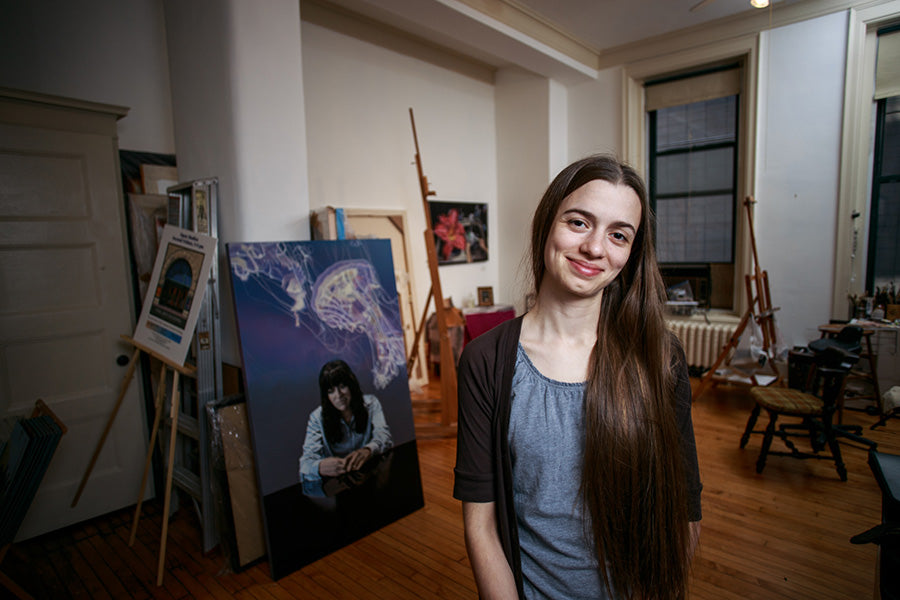 Sometimes starkly real, and other times other-worldly, Jennifer Cronin's style of captivating realism pulls the viewer into the world of her artwork. From exploring inner psychology to highlighting income inequality, Cronin is constantly exploring what it means to be a human living in this time. Cronin has exhibited widely in Chicago, as well as nationally and internationally.  While working on her latest series, Seen and Unseen, Cronin was awarded a grant from the Elizabeth Greenshields Foundation and a fellowship from Vermont Studio Center.  Cronin studied at the University of Illinois at Urbana-Champaign, earning her BFA in painting in 2009. She lives and works in Chicago, and is represented by Elephant Room Gallery.
Wandering.  Looking for something to follow.  Hoping to find a hint of something that is genuine and true.  In my early work, it is a playful tale of imagination weaving itself throughout my daily life.  It is a dream that has taken grip in my consciousness and won't let go.  A wistful yearning for something more.  A quiet reflection on the mystery of the everyday.  The brilliance and beauty that can be lost if you don't try to catch it.

As time has passed, I have turned my search outward.  Searching for meaning in the lives of others and the surrounding world.  Hoping that we can all connect through our lives lived, our sense of empathy, our individual stories, our hopes and aspirations, and our shared struggles and disappointments. Chasing after the mystery and complexity of our lives, and the fingerprints that we leave behind in this world.